Very recently BIG JOHN, the first Japanese denim producer and overall denim legend, recently collaborated with Naked & Famous (see our earlier post) to put out a limited edition 14oz. Weird Guy Raw Denim.  BIG JOHN also celebrated its 70th anniversary in 2010.  Although they are not entirely dedicated to raw denim, they have played a pivotal and highly influential role in the denim industry.  To fully understand how BIG (no pun intended) these guys really are, you have to go a-a-a-a-llll the way back to World War II (source: BIG JOHN site, see footer)
It all started when WWII began in 1939 and a strong demand came about in Japan for all sorts of work wear and uniforms.  One designer named, Kotaro Ozaki, capitalized on this opportunity and helped fill the demand in 1940 by founding BIG JOHN. They were responsible for servicing all sewing needs for the uniform manufacturer, Maruo Clothing, who made everything from student uniforms to work wear.  The factory was based in Kojima, South Japan.
By the time the 1950's rolled around, WWII was well over and Japan was still not in the best shape.  They began importing U.S. (and other foreign) imported clothing – most notably denim – and U.S.-made clothes were climbing in popularity.  However, American denim jeans were far too big for the Japanese market, so jeans were either tailored to fit, or the denim cotton and material was simply imported.
Conveniently, trade barriers slowly disintegrated in the early 1960's and a plethora of Japanese denim labels opened shop very quickly.  BJ had already acquired 20 years worth of knowledge for the manufacturing process and was soon deemed as one of the leading domestic jean companies.  They officially entered the denim industry in 1965 (in conjunction with Maruo).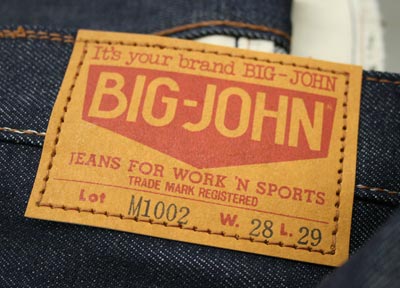 Over the next 45 years, BJ put out many successful denim models and brands (e.g. "WORLD WORKER") , not much of which was raw nor produced on looms that many raw denim enthusiasts favor.  Much of the process was industrialized over the 1970's, until they famously emphasized "Quality Comes First" in the 1980's and returning to using natural dyes and materials in the 1990's.  In recent years, BJ has taken a surprising turn, partnering with Dickies to develop and sell some denim models in Japan and even producing more slim-fitting denim.
BIG JOHN is not the first brand that comes to mind when you think of raw denim.  However, this is one player to not underestimate and to keep an eye on in the future.  Their recent collaboration with Naked & Famous shows they are looking to test the waters, and given their lengthy and powerful history, are more than willing to make their presence felt.  In the time being, happy 71st BIG JOHN!
Additional Resources:
BIG JOHN Official Site
BIG JOHN Blog
Rob Trigg Site (with BIG JOHN logos for European Launch)
Stay Raw!
-Chad
@heddels