Whether you're tying the knot or simply buying a new ring for yourself, knowing your ring size is essential. So before you ball out on that Good Art ring you've had your eye on, take a look at our guide on determining your ring size.
Why Ring Size Matters
Apart from the obvious reason of needing your ring to stay on your finger, here are some other reasons why getting the right ring size is of paramount importance:
Comfort — When too small, a ring can be uncomfortable, itchy, or just plain painful.
It could get stuck — We've all been there, you buy a new pair of jeans and they're just too small. But while jeans won't get lodged on your legs, a ring will certainly get lodged onto your finger if it's too small.
The ring can wear down faster — If a ring is on the small side, your finger can wear down the metal at a much faster rate.
Ways to Determine Your Ring Size
There are a few different ways to measure your ring size, but each method simply measures the circumference of your finger or the diameter of an existing ring to get a measurement in millimeters. Once this measurement is taken, you can use a ring size chart to determine your ring size. Be sure to give your chosen method a couple of tries to ensure accuracy.
String and Paper
Wrap a piece of string or paper around your selected finger on or just below your knuckle
Tighten the string or paper so it is snug around your finger, with the tiniest bit of slack
Mark the point where the end meets the rest of the piece of material (as pictured above)
Cut the piece of string or paper where you made the mark
Measure the string or paper in millimeters using a ruler
Pick the closest measurement on a ring size chart to find your ring size.
Measure a Ring That Already Fits You
If you can find a ring that fits you from a friend or family member, you can use this ring to measure your ring size. For this method, you can either measure the inside circumference of the ring with a tape measure, or measure the diameter of the inside of the ring with a ruler (both in mm). You can then use a ring size chart to convert either of these measurements into your ring size.
Use a Plastic Ring Sizer
There are specialized tools available that can help you to determine your ring size known as ring sizers.
Things to Consider
Before using any of the above methods to determine your ring size, make sure you consider the below:
The size of your knuckle — If your knuckle is on the larger side, you may want to consider ordering half a size bigger than the measurement of your finger alone, otherwise you may not be able to place the ring onto your finger comfortably.
Temperature changes — Heat can cause your fingers to swell and colder temperatures can make your fingers shrink. This should be considered when measuring your finger to determine your ring size to avoid sizing issues.
Accuracy of ring size chart — Make sure you use a ring size chart from a reliable source, especially when converting your measurement to international sizes i.e. Japanese or Swiss.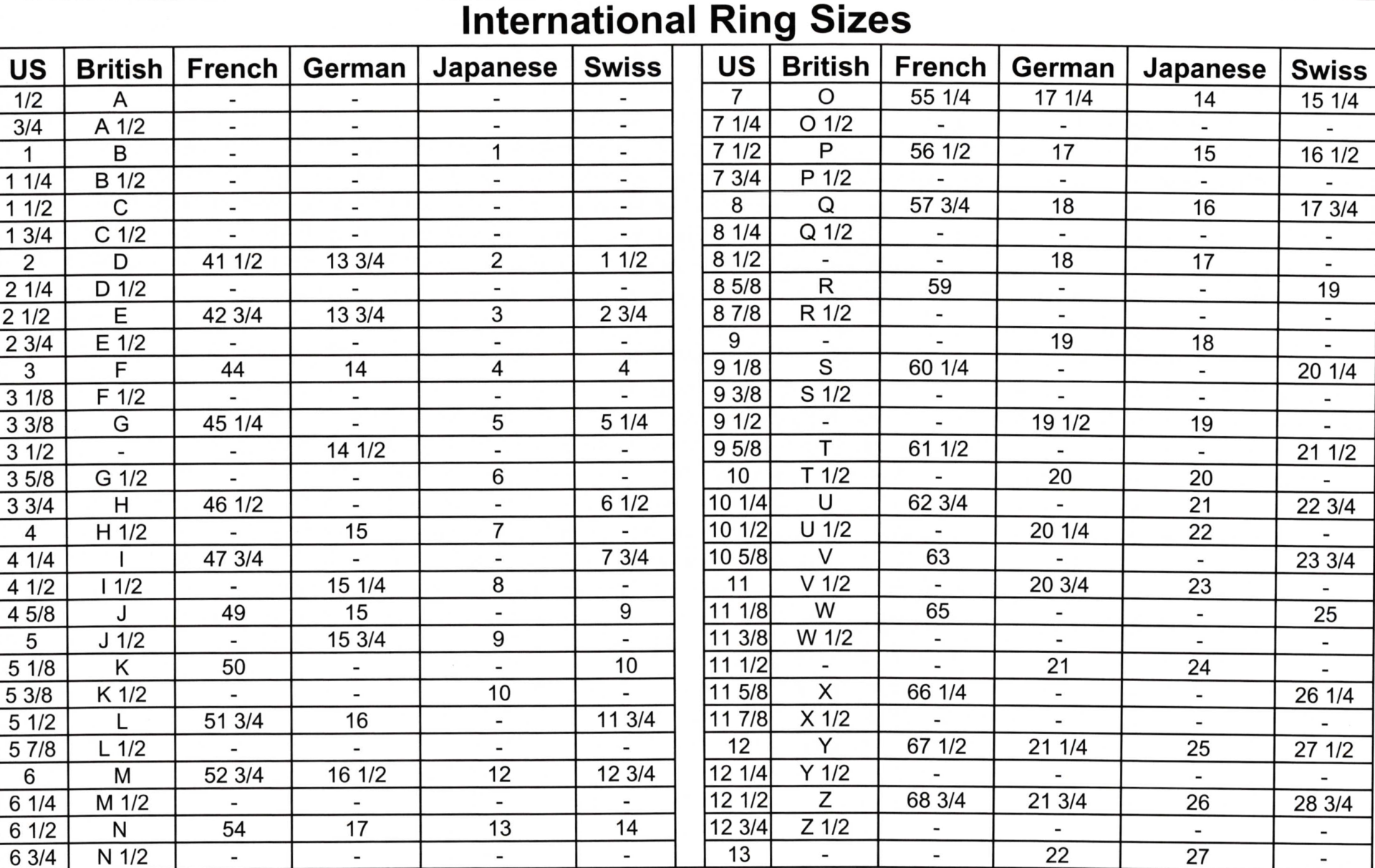 Image via Ganoskin
What About Resizing a Ring?
Some rings can be re-sized if they are either too big or too small. If it's too large, a jeweler will cut off a small part of the band and then reattach the ends by soldering. This method may not work on rings that are made from titanium or rose gold; have gemstones in the band; or have a mounted gemstone.
If your ring is too small, a jeweler can take a similar soldering approach by cutting the band, spreading it out, and soldering in a new piece of metal to join the gap and thus enlarge the band. If the ring only needs to be slightly larger—say, half a size—a jeweler may use a ring stretching device to enlarge the band.
Although it's handy that we can re-size most rings, both stretching and reducing a ring band can compromise the long-term strength of the ring. For example, when soldered, the soldered part of the ring will often be much weaker and prone to being worn down quickly. Soldering can also leave marks on the ring that can compromise its fine details.