Part of owning things you want to use forever is accepting that, no matter how well made your clothes and accessories are, they will get damaged over time. Anything from lost buttons and frayed hems, all the way to busted elbows and crotch blowouts, we've all been there. Nothing is invincible, but one of the most rewarding parts of using something for as long as you possibly can is repairing that something along the way to keep it by your side.
When it comes to repairs, especially repairs specific to our niche, Science and Kindness is there to fortify the bond between you and your favorite pieces. Based in Saint Paul, Science and Kindness is a denim-centric repair and customization service that will see to just about anything you can throw at them, from your busted jeans all the way to a silk shirt or leather bag.
Having recently signed up Science and Kindness to our Heddels+ program, we're taking a moment to shine the light on the Minnesota repair service, who are here to bring your most-loved clothing and accessories back from the brink.
Brand History
Science and Kindness is a repair, alteration, and customization service founded by Satchel Moore in 2014. At a young age, Satchel had an introduction to clothing and fabrics unlike most others. His mother was switched onto made in USA goods and explained to Satchel the importance of well-made, 100% cotton clothing – something which trumped trends in her discerning eyes. Satchel then attended Minnesota Waldorf School in the Twin Cities, an educational institution known across the world for its integration of knitting into its mandatory curriculum. This meant that Satchel was introduced to tactile craft and fabric production as early as 1st grade, and continued to study knitting until 8th grade.
When Satchel got to college in the mid-2000s, he was disillusioned by the denim options available in a mainstream market full of pre-washed and pre-distressed jeans. His peers were rocking pre-distressed jeans by brands like Prada and Diesel, which, despite their designer status, didn't really stack up construction-wise to the American-made staples he had grown up with. His disappointment drove him to search further afield for something better. Like most of us, his search was diverted down the rabbit hole that is the internet, and he found raw denim.
Satchel's raw denim journey led him to New York's Blue In Green, where he purchased a pair of Samurai Jeans, which became the first pair of raw denim jeans that he was able to truly beat up. And it was when the time came to repair these Samurais that the first seeds of Science & Kindness were sewn. Satchel knew of a thrift shop that had a small tailoring section at the back. He bought in his busted Samurais, but they repaired them with a horrible piece of fabric. This showed the disconnect between the tailor and the quality, nuance, and personal meaning of a garment like a pair of raw denim jeans like Satchel's Samurais.
Satchel began working at Saint Paul's Blackblue where he was immersed further in the booming raw denim scene where brands like Tellason, 3sixteen, Raleigh, and Naked & Famous were all forging their name. At the time of joining the team, the store didn't have a tailor and due to his negative experiences with non-denim-specialist tailors, Satchel didn't want to tell customers to go to their local tailor. It just didn't feel right. With raw denim sales bursting at the outseams and hem requests going through the roof, Blackblue procured a Union Special 43200G chainstitch machine which Satchel's operated in his apartment, hemming a couple-dozen pairs of jeans a week. This was the true beginning of the Science & Kindness journey.
Although self-taught, it was clear through his hemming work that Satchel had talent behind a sewing machine. Seeing a gap in the market for local denim repairs, he bought himself a Singer 47W70 darning machine in 2014 and began taking customer repairs under the name Science and Kindness. For around a year, Science and Kindness remained a sort of barnacle upon Blackblue, but Satchel broke away and made Science and Kindness its own entity in 2015.
Despite taking Social Media work for Red Wing Heritage, Satchel poured hours into Science and Kindness, pushing profits back into growing the business to what it is today.
The Science & Kindness Philosophy & Service Offer
The philosophy of Science and Kindness can't be summed better than Satchel, himself:
"Science and Kindness exists to keep the bond between you and your clothes strong"
Although firmly rooted in raw denim culture and repair, Science and Kindness are much, much more than a denim repair service. As well as practical repairs and alterations, the service excels in customizing your goods with patches, decorative stitching, or even working some flair into repair jobs. Just check the gallery below for some examples of Science and Kindness' stellar work.
As well as Satchel, the Science and Kindness consists of Katie Grustern, Hannah Hall, and Colleen Harriss – all of whom are committed to taking on any repair, customization, or alteration project – within reason. Science and Kindness have tackled hundreds of non-denim garments and accessories, from corduroy pants to Real McCoy's leather jackets, vintage down jackets, and Kapital socks.
Science and Kindness understand the bond between you and your most beloved pieces of clothing, through the experience, knowledge, and philosophy instilled in the business by Satchel. You and your clothing couldn't really be much safer hands.
To begin your Science and Kindness journey, reach out to the team over at the Science and Kindness website.
Gallery of Work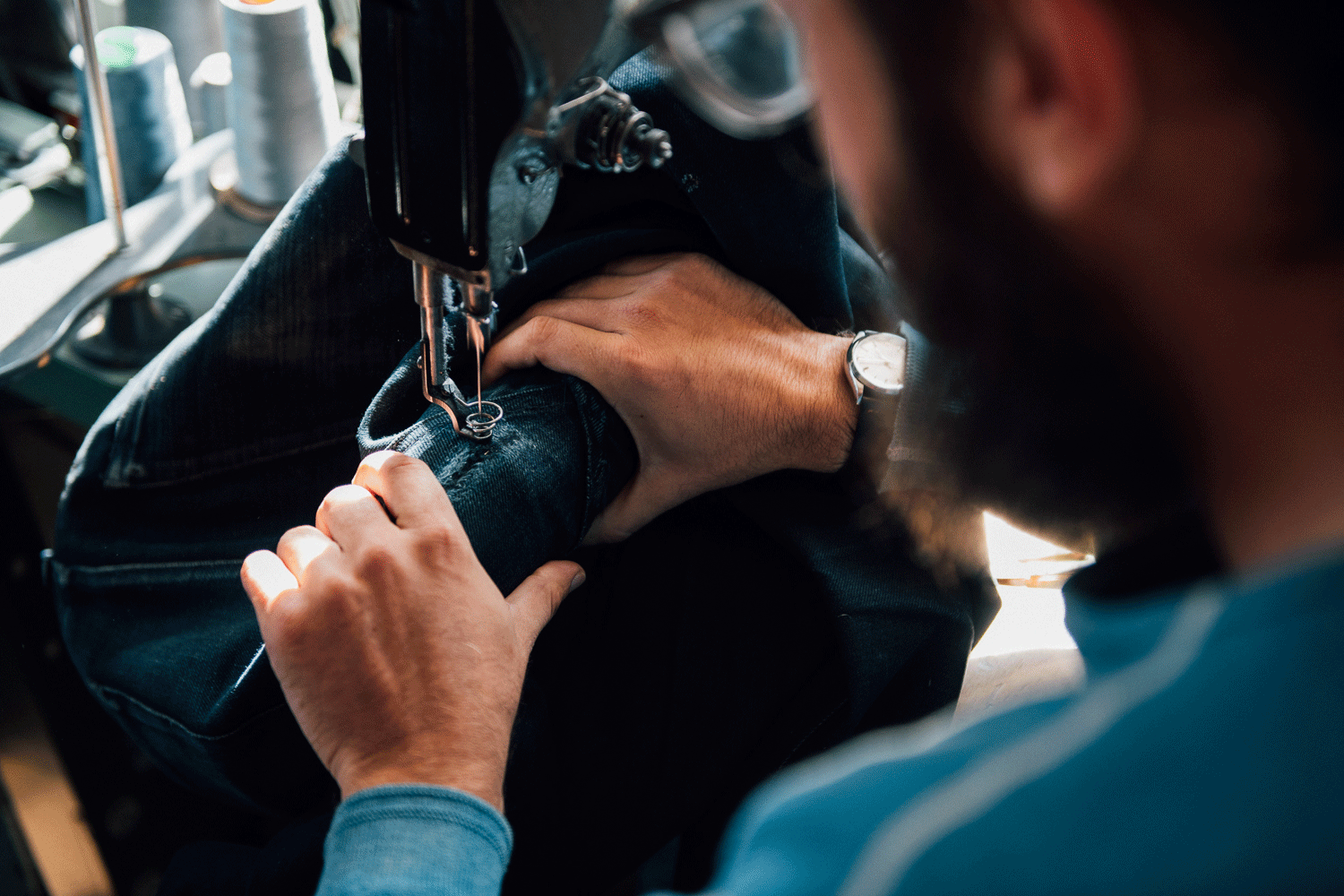 Image via Benjamin Shoots